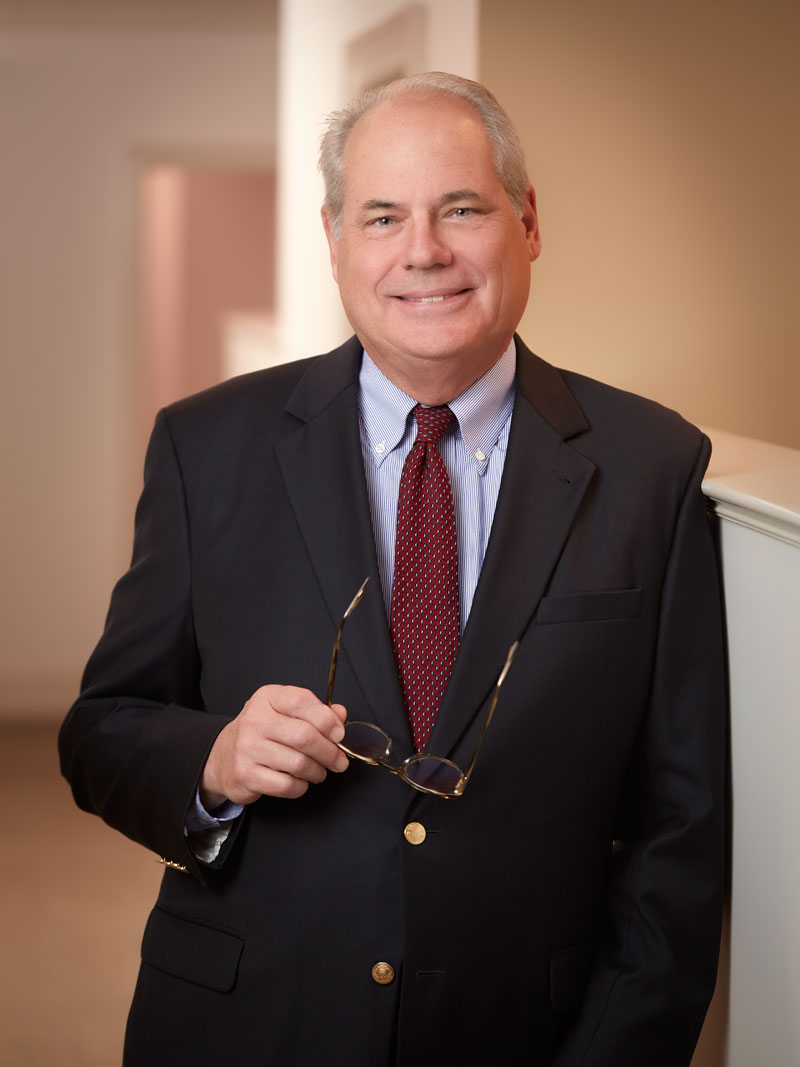 Richard C. Detwiler
Member
803.404.6964 phone
803.404.6901 fax
vCard
Print
"We listen to our clients, to help them identify their goals and develop the appropriate strategy to meet those goals and resolve their problems."
Rick has been a trial lawyer for over 37 years. He has earned Martindale-Hubbell's highest Peer Review Rating of "AV Preeminent" by demonstrating the highest level of professional excellence, legal skill, and ethical standing in the practice of law. He is a member of the American Board of Trial Advocates, an invitation-only association of experienced trial lawyers and judges dedicated to the preservation of the United States Constitution's 7th Amendment guarantee of the right to a trial by jury.
Rick has been recognized by Super Lawyers and Best Lawyers, reflecting the  recognition of his peers in the legal community, and by Legal Elite of the Midlands. He is also certified by the South Carolina Supreme Court as a Circuit Court Mediator. As both a mediator and a trial lawyer with almost four decades of experience over hundreds of disputes, Rick will not hesitate to go to trial, but understands the wisdom and certainty of a negotiated resolution of a dispute if possible.
Rick has tried over 100 cases to verdict, including jury and non-jury disputes, and has navigated successful settlements for clients in hundreds more disputes. These have involved serious personal injury and wrongful death, complex commercial litigation, estate and trust lawsuits, and environmental contamination.
Rick brought his practice to Callison Tighe in 1991 and has been a partner since 1992. He is the firm's Managing Member. Rick was born and raised in Columbia, and has lived with his family in nearby Camden, SC since 1988. He has been married for over 40 years to his wife Janet and they have one son, Will.
Throughout his career, Rick has successfully handled:
corporate disputes among shareholders and disputes among members of limited liability companies, including those involving minority owner oppression and company dissolution
disputes among beneficiaries of estates and trusts with personal representatives and trustees
workers compensation accidents involving serious or catastrophic injuries, including burn injuries, traumatic brain injuries and debilitating orthopedic injuries
serious personal injury from automobile and truck accidents
contract disputes between manufacturers and suppliers
suits involving environmental damages caused by stormwater runoff from neighboring landowners
medical malpractice claims
U.S. Court of Appeals Fourth Circuit, 2000
U.S. District Court, District of South Carolina, 1986
South Carolina, 1986
South Carolina Supreme Court Certified Circuit Court Mediator
University of South Carolina, Bachelor of Science in Business Administration (1977)
University of South Carolina, (J.D. 1985, class of 1986)

University of South Carolina School of Law Moot Court Bar, member
University of South Carolina School of Law ABA Moot Court Team, member
South Carolina Bar

Trial and Appellate Advocacy Section
Family Law Section
Torts and Insurance Practice Section
Workers' Compensation Section

American Board of Trial Advocates
American Association for Justice
South Carolina Association for Justice
Best Lawyers in America, Workers' Compensation Law – Claimants, 2018-present; Commercial Litigation, 2020-present
South Carolina Super Lawyers, General Litigation, 2022-present
AV Preeminent Rating, Martindale Hubbell Peer Ratings
"Legal Elite of the Midlands" by Columbia Business Monthly, 2013-14, 2017 and 2019 in field of workers' compensation; 2020 in the field of personal injury; 2018 and 2021 to present in the field of business litigation.
Disclaimer: The following examples are intended only to be representative of Mr. Detwiler's practice. Mr. Detwiler is solely responsible for this content. These examples are not intended, and cannot be relied upon, to predict the results in any other case.
Lloyd & Rings Wholesale Nursery, Inc. v. Long & Woodley Landscaping & Garden Center, Inc., 315 S.C. 88, 431 S.E.2d 632 (1993). (Defended at the trial and appellate level a claim by a Florida plaintiff to domesticate a Florida judgment against a South Carolina resident, based upon lack of personal jurisdiction.)

CompTrust AGC, etc. v. Whitaker's, Inc. of Sumter and Whitaker's Trust, etc., 2007-UP-199 (2007). (Obtained a jury award of actual and punitive damages in a case involving misrepresentations by an insured of business/worker classifications. Rick was lead trial and appellate counsel.)
Gregory Electric Company, Inc. v. American Express Financial Advisors, n/k/a Ameriprise Financial Services, et al., NASD/FINRA Case No. 04-04413. (Prosecuted a securities arbitration claim on behalf of an investor involving claims of unsuitability, fraud, churning, violation of SEC Rule 10b-5, among other claims, resulting in a substantial arbitration award against Ameriprise Financial Services.
Gregory Electric Company, Inc. v. Seaboard Securities, Inc. (Handled a securities arbitration claim on behalf of an investor involving claims of unsuitability, fraud, churning, violation of SEC Rule 10b-5, among other claims.)

Wallace v. Dixie Narco, Inc., a/k/a Maytag and Fidelity & Guaranty Insurance Co.,WCC File No. 0526479, Civil Action No. 2007-CO-06-229. (Prosecuted a mental-mental injury claim against employer, resulting in an award of total disability benefits, after appeal to the South Carolina Court of Common Pleas, reversing the South Carolina Workers Compensation Commission.)
Creative Communication Services, Inc. v. Travelers Property Casualty Company of America and PAD Able, Inc., d/b/a Harold R. Beard Agency, Civil Action No. 2006-CP-40-6758. (Successfully prosecuted civil claim against an insurance carrier and agent for allegedly overbilling workers' compensation premiums.)
Moffitt v. South Carolina Department of Transportation, Civil Action No. 99-CP-27-122. (As lead trial counsel, obtained jury award, plus award of attorneys' fees, in a condemnation case involving a taking of only one-third of an acre but substantial damages to the remainder of the landowner's property; appeal by SCDOT withdrawn.)
Litigated and resolved dispute over a family business involving oppression and mismanagement by majority shareholders, resulting in a buyout of client's shares for a figure in excess of market value.
Litigated and resolved dispute against a real estate broker which aided in seller's breach of $1.3 million real estate contract.
Defended a minority shareholder derivative suit against a family-owned real estate development company, which alleged fraud and mismanagement by the controlling directors, resulting in no settlement or award to the disaffected shareholder and payment of clients' attorneys fees.
Defended claims by remainder beneficiaries against the primary income beneficiary and trustee of a trust, and prosecuted related claims against the successor trustee for mismanagement and partiality in the Trust's administration.
Handled hundreds of workers compensation cases defending commercial and residential general contractors and subcontractors.
Handled many workers' compensation injury claims for injured workers involving awards or settlement for permanent and total disability.
Handled numerous lifetime benefits cases for injured workers involving traumatic brain injuries under S.C. Code § 42-9-10.
In 2015, successfully resolved a medical malpractice claim against a doctor and regional hospital on behalf of a patient who was rendered a quadriplegic after the medical providers over-corrected his serum saline, causing central pontine myelinolysis, also referred to as osmotic demyelination syndrome.
Successfully represented a number of physicians in practice management matters, including commercial litigation over physician practices.
Successfully represented contractors in disputes over alleged OSHA violations.